Acquired in 1998 from the German HeidelbergCement group, over the past decade the Romanian plant in Neamț county has distinguished itself in Eastern Europe for the substantial investments it has made in the environmental field. Starting with the use of alternative fuels to make its cement production processes increasingly sustainable. Hence the meeting with Entsorga.
Cement production is notoriously an 'energy-intensive' process: the raw material has to be heated up to 1,500 degrees. In the past, fossil fuels were used to reach these temperatures, first and foremost coal, which produces greenhouse gases when burning.
One of the most effective solutions to aid the energy transition of cement plants comes from the use of alternative fuels obtained from waste. This process saves significant quantities of fossil fuels, a non-renewable natural resource, and at the same time, waste is recovered, reducing greenhouse gas emissions.
In more than 10 years, the Tasca cement plant has continued to invest in this direction, as evidenced by the latest supply of the SRF (Solid Recovery Fuel) kiln line commissioned to our Group.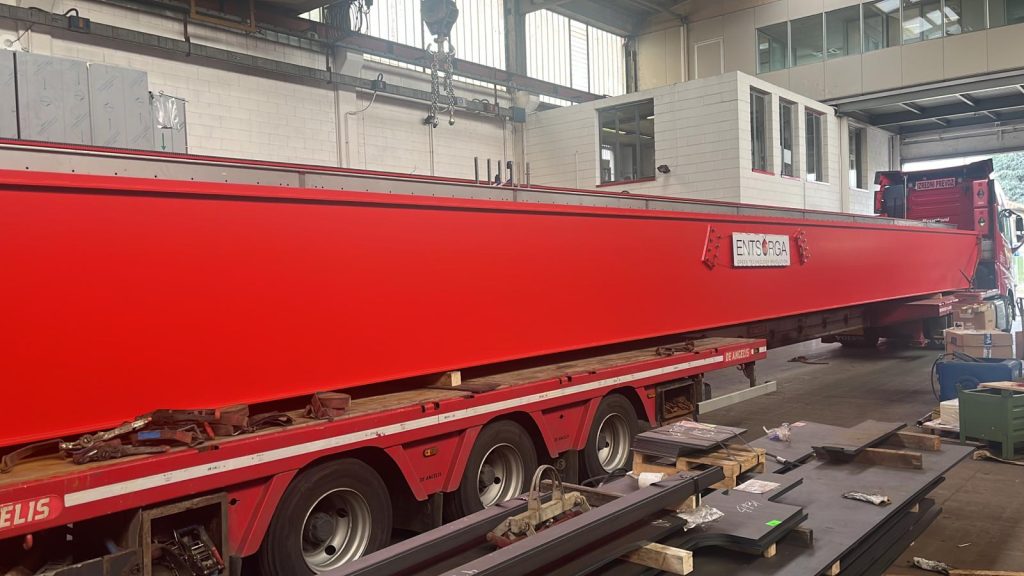 At the heart of the line is the Spider overhead crane. With a gauge of 22 metres and a load capacity at the hook of 12 tonnes, the exceptional load left these days for Romania. The Spider is our fully automatic handling system for storing, handling and dosing SRF quickly and safely. Thanks to proprietary software, the Spider can handle large quantities of fuels, even in small spaces, controlling the loading and unloading speed with maximum precision.
We also provide the material refining line, including a magnet separator and an induction separator to recycle ferrous and non-ferrous materials, as well as a biofilter. The aim of the entire system is to maximise the calorific value of SRF by selecting the materials that make it up.