Our systems of storing, feeding and dosing SRF (Solid Recoverd Fuel) is under construction and will son be delivered in Indonesia thanks to the supply contract recently acquired from PT Indocement Tunggal Prakarsa TnK., an Indonesian subsidiary of Heidelberg Cement.
Indocement, the second largest cement producer in Indonesia and with a total of 13 plants, has chosen our technologies for its cement factory Citeureup in Bogor (West Java), currently one of the biggest in the world: a complex of nine plants, with an annual design capacity of 11,9 million tons of cement.
It is well known that cement factories are among the largest energy consuming industries on the planet and all the major producers have set the strategic goal of massively use alternative fuels in their industrial plans with the aim of reducing greenhouse gas emissions balance generated by their production processes.
The challenge is to make the use of alternative fuels advantageous also from an economic viewpoint.
"We will supply two highly automized integrated lines, which we have designed and conceived to guarantee Indocement a reduction in emissions but also in fuel consumption" – commented Francesco Galanzino, CEO of Entsorga – "The systems will help the cement factory to maintain its commitments in terms of sustainability 2030, in line with the policies of the Heidelberg Group who is a real first mover in the path toward sustainability. Such project it is a very important step in a Country where environmental policies are in their early stage.".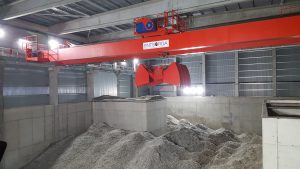 The robotic SpiderTM bridge cranes will handle the fuel in the storage hall and feed and dose the same to the burner by means of our PelicanTM  system. An advanced supervision system will monitor and control the operation on a 24/7 basis thus, guaranteeing a constant and continuous flow to the burner.
The first feeding line will have a capacity of 40t/h, the second of 10t/h of alternative fuel.
The delivery and installation of the equipment is planned for the summer of 2022.